A Celebration of Vermont's Public Libraries
September 17, 2022 from 10-4, Killington VT
Greetings from your festival hosts! The Sherburne Memorial Library is happy to host the festival again this year. All of our events are outside this year and we are thrilled to have some fabulous Vermont Public Libraries that have volunteered to showcase their favorite fairy tales. Add to that three wonderful storytellers, talented musicians, food & craft vendors, costumed characters and free books and you've got a wonderful day out for the whole family! We're also welcoming our Vikings back for the second year! Should you need anything, our information table is set up at the center of our back porch and the volunteers there can answer any questions you might have about the day's events or things to do in the area. Welcome to the Vermont Fairy Tale Festival!
Participating Libraries and Chosen Tales/Themes:
Brandon Public Library: Gnomes
Dorset Village Library: Alice in Wonderland
Hartland Public Library: East of the Sun, West of the Moon
Highgate Public Library: Snow White & Rose Red
Kimball Public Library: Hansel & Gretel
Maclure Public Library: The Wizard of Oz
Poultney Public Library: Baba Yaga
Rockingham Free Public Library: Norse Tales
Sherburne Memorial Library: Guardians of Ga'Hoole
South Burlington Public Library: A Midsummer Night's Dream
Swanton Public Library: Costumed Characters
Wells Village Library: The Princess & the Frog
Our Storytellers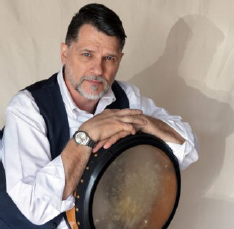 Simon Brooks is an award winning British storyteller who has made New Hampshire his home for twenty years. He began spinning yarns in 1991 for school groups and families at youth hostels in the United Kingdom. In 2003 Simon became a children's librarian and freelance storyteller in the Upper Valley. Simon likes to investigate, educate & fascinate with story, and he has recorded 5 CDs, four storytelling albums, and a retelling of the Epic of Gilgamesh, and has voiced numerous audio books. He is a published writer, poet and photographer. Simon's collection of seventeen folk and fairy tales, Under the Oaken Bough, was released in April 2018. He performs for libraries, schools, art museums, hospitals, festivals, and private functions.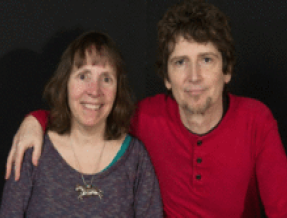 Lynne began her training as a storyteller in England and is the host of a monthly storytelling series called Seanachie Nights dedicated to stories and music from the British Isles and the Celtic tradition. Lynne is also a playwright and visual artist and plays Irish-style concertina. Kurt taught himself music and guitar after finding a 4-string tenor acoustic guitar in his mother's closet when he was 14. Later he studied music theory and composition. As a solo musician he has developed an original voice on electric guitar. For the past 5 years, Kurt has added Ukulele to his musical endeavors, on which he focuses on instrumental Celtic traditional music. With storyteller/writer Lynne Cullen, Kurt merges the ancient myths and legends with music inspired by Black//Folk Metal, traditional, and classical sources to bring the old adventures to life.
Our Musicians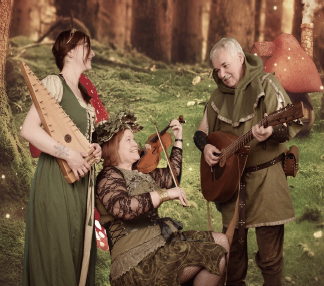 O'hAnleigh is Irish-American folk music with roots that rock. Tom Hanley, Becca Hanley and Cindy Hill bring the traditions of Irish immigrant culture, history, literature and music to life with dynamic performances including rousing drinking songs, toe-tapping pub favorites, haunting ballads, sizzling fiddle tunes, and originals based on Irish myths and legends. O'hAnleigh is available for concerts, private parties, pubs and restaurants, weddings, fairs, farmers markets, and festivals. We particularly delight in bringing history to life in song at civil war encampments, history fairs, Renn Faires and Steampunk Expos.
The Royal Court
The Royal Court will be in session from 11-12:30 and from 2-3:30. Anyone who can stand before the Court and either tell of a good deed done or a favorite book read (and why) shall be Knighted as a proud defender of the Kingdom.
---
Build a Knight Contest
If you would like to participate in our Build a Knight Contest, please sign up at the information table located on the back porch of the library. Then meet us back at the table at 1pm with a parent or guardian. We will hand out a roll of Reynolds Wrap to each contestant and that child will have 10-15 minutes to turn their grown-up into a knight in shining armor. Prizes will be awarded for best attempt. Limited to 10 participants.
---
Dragon Egg Scavenger Hunt
We have hidden a dozen or so dragon eggs around the property. If you happen to find one, bring it to the information table on the back porch where you can keep it or trade it in for a prize. Please, only one per family so that all have a chance to play!
---