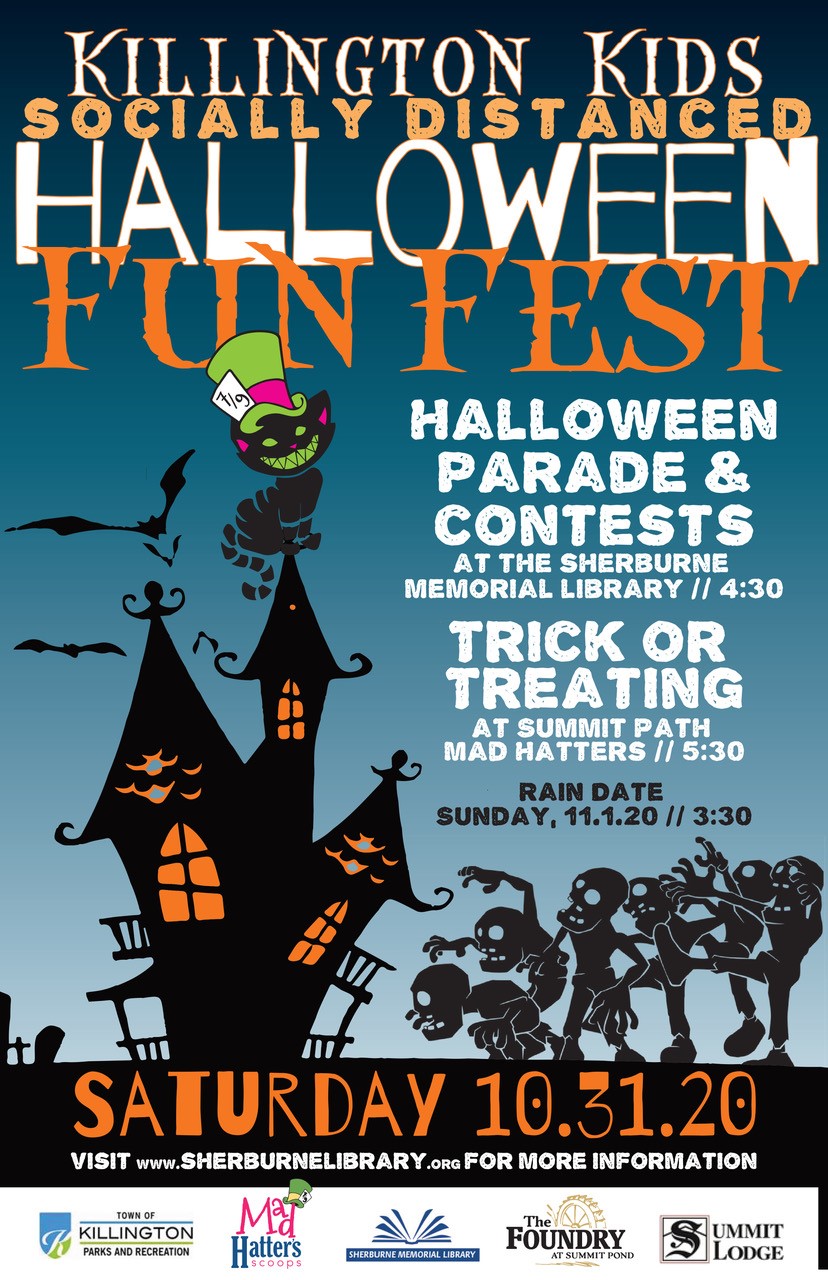 We've got something amazing planned for Halloween this year in Killington! Starting at the Sherburne Library at 5pm on the 31st, come join the costume parade and contest! Prizes awarded for most original, best use of mask, and most believable. We'll help families sit physically distant to watch the costume parade by setting up the back lawn the same way we did for the summer concert series.
You can also bring a decorated or carved pumpkin to enter the Halloween Pumpkin Contest. Either bring your pumpkin to the library earlier that week or bring it with you the evening of the event. Use your imagination and decorate or carve your pumpkin any way you like! Prizes will be awarded by age group: Grades 4 to 6, 1 to 3, and kindergarten and under.
Take a walk around the library to see the singing Jack O'Lanterns, our Apothecary Shoppe, all while trying to spot a ghost or two! At the end of the walk, you'll get a bag full of treats from the library and we'll send you up to Mad Hatter's on Killington Road for more fun and festivities along with a special Trick or Treat!
Schedule:
4:30 PM – Event opens at library. Masks are required.
4:50 PM – Children line up for the parade and parents find their spot on the lawn (bring a chair or blanket).
5:00 PM – Parade & Pumpkin Judging: The parade will weave through the lawn, so parents please stay on your painted lines giving kids enough space to walk. After the parade, prizes will be awarded under the library porch. Families should exit the library down the path that weaves around the right side of the building to see the singing pumpkins and receive your bag of treats and free book.
5:00 PM – 7:00 PM Summit Path Trick-or-Treating opens on Killington Road
To attend this event, families must register using the link below. Only one person from each family is required to provide contact tracing for the group. By registering your group agrees that they will only attend if no one in the party is showing signs of respiratory illness, has a fever greater than 100.4, has been out of Vermont to a quarantine requiring county (https://accd.vermont.gov/covid-19/restart/cross-state-travel), or has been in contact with someone who has COVID-19 in the past 14 days. Masks are required unless seated with your group, and we ask that everyone be a partner in physical distancing. This event is completely outside, so please dress warmly. Bathrooms will not be available. We thank you for your cooperation and your participation in this fun event.
To register for our Halloween Fun Fest, just click on the link below.